---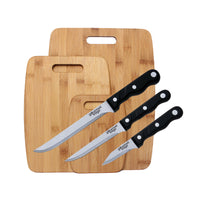 CASE PACK: 
UPC: 850000946835
6 Pc Cutting Board & Knife Set:
This is a basic everyday kitchen need.
This 6pc set includes three cutting boards and three knives.

This Knives Made of High Carbon Steel Stay sharp.
Full Tang Blade with Triple rivets.
Finger stop ergonomically designed thicker handle for comfortable cutting.
Dishwasher Safe.
Color - BLACK
The cutting board crafted with thick, heavy-duty bamboo, our cutting boards provide a clean food prep surface for every meal.
Tough enough to withstand heavy chopping, slicing, dicing, and sharp knives, the gourmet Craft-Bamboo cutting board surface won't retain stains for long-term use.
Great for slicing your favorite fish, meat, chicken,
vegetables, salad, roast, fruits and more.
Set includes:

 BOARD - 8" x 6"
 BOARD - 12" x 9"
 BOARD - 15" x 12"
 3.5" Paring Knife
 5" Utility Knife
 8" Slicing Knife