---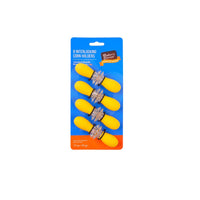 CASE PACK: 36
UPC: 6935780143095
8 Pcs Corn Holders size 3.7*1.2 Inch - #BS40132
Corn Holders Quantity - Come with 8pcs/4 pairs corn cob holders.
These corn holders protect your hands from the damage of hot corn cobs and melted butter, making eating corn cobs simple and fun.
Premium Corn Holders - Our corn holders with ergonomic silicone handle, which are more comfortable to hold.
Pins are made of stainless steel, which are rust-proof and easy to clean.
You can also use corn cob holders to eat other foods.
Interlocking Design - Each corn on the cob holders has two stainless steel prongs.
You can overlap them to hide the sharp stainless steel pin.
With interlocking design, which can provide convenience for storage and safety.
Easy to Use - These corn holders are easy to insert into both ends of the corn cob and keep fingers away from hot corn
Widely Used - You can use corn on the cob holders for many activities, suitable for home cooking and various activities such as barbecues, gatherings, camping, picnics, etc.