---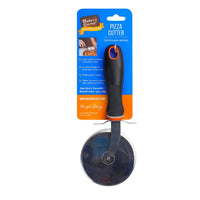 CASE PACK: 36
UPC: 6935780141879
3.5 Inch Stainless Steel Pizza Cutter - size 9X 3.5 Inch - #BS40193
Slice your pizza, brownies, lasagna, and ficcottia bread with ease using this Pizza cutter.
Crafted from durable Stainless steel and Nylon, this traditional-style cutter features a wheel that cuts through your baked delights with precision.
The cutter can be easily washed by hand and is ideal for manual making methods.