---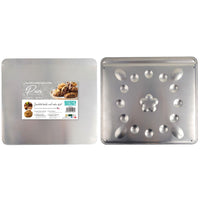 CASE PACK: 12
UPC: 6935780115887
Pure Aluminum Insulated Baking PAN - 16x14x0.9 Inch, 1mm:
Cookie baking sheets for oven perfect every time: The air-insulated technology makes it easier to prevent over-browning of the cookie bottom.
We developed different lines with the same idea of baking perfection in mind.
Bake the perfect cookie every time.
Premium Heat Distribution: Our cookie sheets for baking feature a proprietary insulated design, making it an even greater pleasure to bake cookies and roast some delicious desserts.
Your cookies or others will bake evenly on the surface, effortless to serve.
Get the best cookie baking sheets: Since 1972, cooking sheets for oven bakeware brands.
We love baking, cooking, and sharing.
Our baking pans will resist up to 450¡F without warping.
An insulated pan built to last: Our baking sheet insulated is made of thick aluminum, built to last a lifetime.
Extra-durable thick aluminum, PFOA free, PTFE free, BPA free, Cadmium free, you are all set for safe and peaceful baking.
Thanks to our non-stick proprietary coating, no extra fat is needed and Baker's Secret products are easy to clean.
Here for you: At Baker's Secret, we stand by our products.