---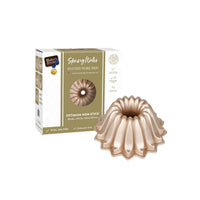 CASE PACK: 12
UPC: 6935780112978
Die-Cast Aluminum Spring Water Pan - 9.4x9.4x4.2 Inch, 2 layer coating:
Looking for a top-quality Fluted Tube pan?
Look no further than our commercial grade Spring Water Fluted Tube pan.
Made of never-rusting heavy gauge cast aluminum, it's got a premium two-layer coating that ensures easy release.
Plus, it's dishwasher safe, PFOA, PTFE, BPA, and cadmium free – so you can rest assured knowing that your family is safe.
NATURAL ALUMINUM: Our Cast Aluminum Line is the best for top-notch durable baking pans. Natural aluminum pans will never rust, and will always provide the best heat conductivity for even cooked delicious cakes. This is a thick and heavy-duty fluted tube pan that will last a lifetime. A perfect fit for everyday baking amateurs.

NON-STICK COATING AND SCRATCH RESISTANT: Our Natural Aluminum line features 2 layers of our non-stick coating, making it an even greater pleasure to bake and roast some delicious desserts. Your cakes will never stick on the surface, effortless to serve.

GET THE BEST FOR YOUR KITCHEN: Since 1972, Baker's Secret has been everyone's favorite bakeware brand. We love baking, cooking, and sharing. Our baking pans will resist up to 450°F without warping. Every cookie sheet comes with two colorful extra-wide grippy silicone handles for extra safety.

BUILT TO LAST, EASY TO CLEAN: Our bakeware tools and utensils are built for lifetime usage. Extra-durable thick steel, dishwasher safe, PFOA free, PTFE free, BPA free, Cadmium free, scratch resistant, metal spatula safe, you are all set for safe and peaceful baking. Thanks to our proprietary non-stick coating, no extra fat is needed and Baker's Secret products are easy to clean.