---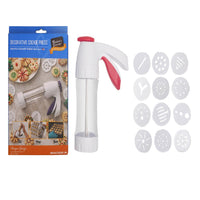 CASE PACK: 12
UPC: 6935780146850
Cake Decorating Gun Set - #BS40398
This is a decorating maker, an indispensable tool for home baking.
Rich shapes and various patterns.
This decorating maker can make 12 kinds of cookies.
When you are making cookies or cream, this decorator can help you make beautiful shapes.
large capacity, about 30 cookies can be made in one filling.