---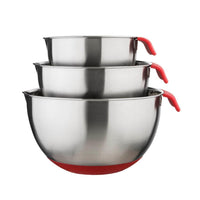 CASE PACK: 4
UPC: 850000946859
3PC STAINLESS STEEL MIXING BOWL SET:
All three bowls have nonslip bottoms and handles.
They're convenient sizes for mixing dough and folding batters.
These are made with the highest-grade stainless-steel construction.
Dishwasher, preheat oven, freezer, refrigerator safe.
Best surface material quality that will not react to any food, will never rust, break or crack.
Sleek and easy-to-use design.
Set includes:

Bowls - 1.5Qt
Bowls - 3Qt
Bowls - 5Qt