---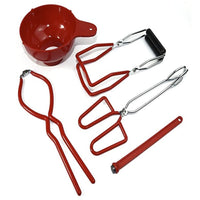 CASE PACK: 12
UPC: 850000946583
5PC CANNING TOOL SET:
High-quality Material: Made of iron plating+ PP+ TPR material, sturdy and durable, comfortable handle, smooth hinge, non-slip and easy to control when in use.
Make Jar-opening Easy: The tool is simple and convenient to use. It is mainly used to easily lift the canned can handle to be firmly clamped on the top of the can. It is mainly used to safely take out cans of any size from boiling water, keeping hands away from heat sources.
Multiple Purposes: The tool can also be used when disinfecting baby bottles, easily extracting the bottles in boiling water to prevent scalding.
Easy to Clean: Please use the tool to clean the inside and outside of the jar before each use to achieve a better preservation effect.
Varied Tool: The canning kit with 5 necessary tools for canning and dehydration, including a funnel, lid lifter, jar lifter, wrench, pliers.