---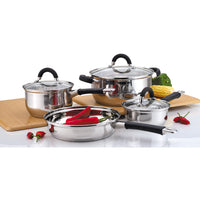 CASE PACK: 2
UPC: 850000946910
The classic stainless steel cookware set with lids inspired by chefs from around the world.
We are proud to introduce luxurious stainless steel cookware set.
Our unique stainless steel cookware set original line features durable, high-quality cookware for the everyday chef who loves to cook delicious food for family and friends.
Impress your guests with a fine-dining experience of culinary delights-restaurant quality right at home!
Sturdy yet stylish, this versatile cookware is long-lasting and backed.
The modern cookware set design combines the durability of stainless steel with the excellent heat distribution properties of stainless steel for professional results.